AUGUST: THE STUDIO WILL CLOSE 7TH TO 27TH FOR HOLIDAYS. ALL MONTHLY PASSES ARE FROZEN IN THIS PERIOD.

You must arrive 10-15 minutes before class. Cancelation policy is a minimum of 5 hours before class to get a class credit. Less than 5 hours class is not refunded. Remember to arrive 10 minutes before class.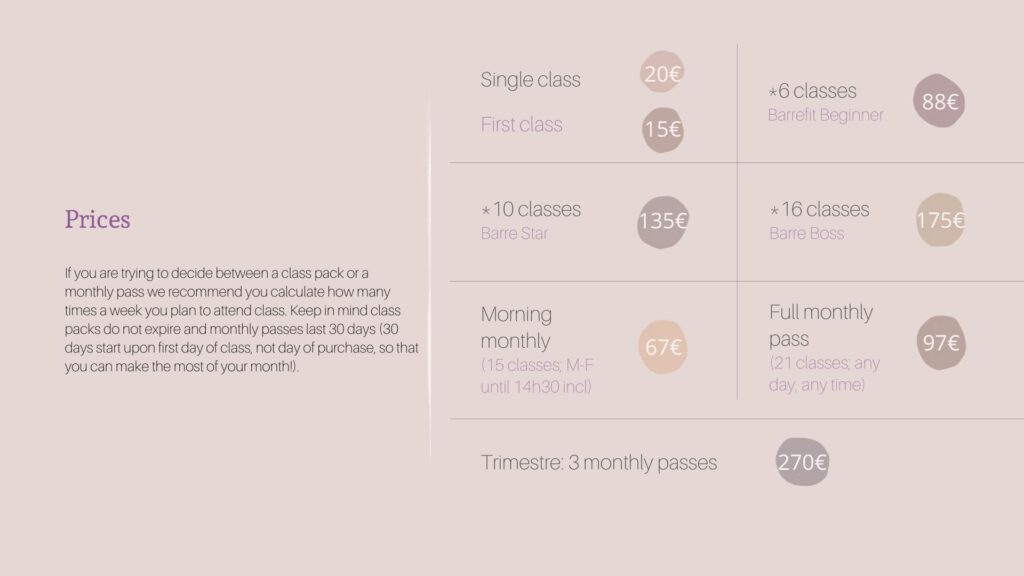 class information - all levels welcome!
BARRE FLOW (previously called Sculpt)
Your go-to barre class if you're looking to tone, sweat and enjoy a dynamic playlist. This class usually uses a soft ball, weights and resistance bands. Intensity: 🍑🍑🍑
BARRE BLAST (previously Hiit)
Ready to sweat? As the name indicates this class varies in intensity; do not expect 60 minutes of cardio. Our goal is to increase your heart rate in some exercises and lower it in others as we focus more on strength. Intensity: 🍑🍑🍑🍑
SLOW BURN BARRE
A deeply enjoyable class. Focus on resistance, mobility and control. Expect lots of isometric holds, slow pulses and sliding exercises! Intensity: 🍑🍑🍑
FLOOR BARRE
Blends barre toning and resistance exercises with pilates. Does not use the barre. Intensity: 🍑🍑

PILATES BARRE
The best of pilates and the best of barre. Intensity: 🍑🍑
BALLET BARRE
This is not like a normal ballet class for adults! This class blends 30 minutes of technical ballet leg exercises at the barre, followed by a powerful 30 minute floor barre blast. 🍑🍑
AERIAL YOGA
Defy gravity as you take a yoga flow from the floor to the air. This class is challenging, stretching and incredibly relaxing. If it is your first time flying you can join this class, just be sure to mention it to the instructor. If you are pregnant you may not join this class as the hammock puts pressure on your lower belly. Intensity 🍑🍑
YOGABARRE
The perfect blend of yoga and barre, using the barre for deeper stretches and tricky balance poses. Intensity: 🍑



FAQs
What do I need for a barre class?
You will need to wear comfortable workout clothes, a bottle of water and a small towel. Barre classes are a barefoot activity, feel free to wear pilates socks! All the workout material is available in the studio, however if you prefer to bring your own yoga mat you are welcome to do so.
What are the studio rules?
You must arrive 10-15 minutes before class starts! If you need to change or you are coming for the first time, arrive earlier, so you have time to tell us about any important health information. Once class has started, late arrival is not permitted and no refunds will be issued. Leaving the class before the end is not permitted for your own safety. If you have an urgent matter please tell the instructor before class starts. Racism, sexism, theft and vandalism will not be tolerated under any circumstance. Barrefit® Bcn reserves the right to ban anyone who is disrespectful towards another member of our community or our staff.
Is barre a suitable exercise for everyone? What if I have an illness/injury? What if I am pregnant or have recently given birth?

Yes! Barre is great workout for people of all ages and is open to all fitness levels. The studio must be made aware of any illness or injury beforehand and you must be cleared by a doctor. If you suffer from any chronic pain, experience discomfort in certain positions, let the class instructor know so they can offer modifications in class. Barre is a completely safe pre-natal activity. If you are pregnant, just let the instructor know so they can show you how to modify certain moves and positions to ensure yours and your baby's safety. Barre is also a great post-natal exercise to get you back in shape; you must be cleared by your doctor and let the instructor know.
What language should I expect the classes to be in?

We adapt to whomever is there! Expect Spanglish mostly though we may throw in some French, Italian or German to help someone out where there is a language barrier.
Do you have showers?
NO! We do not have showers. Sorry!
Do you have WIFI?
We do not have wifi – talk to each other!
Bicycles and dogs are welcome 🙂